Vejhuset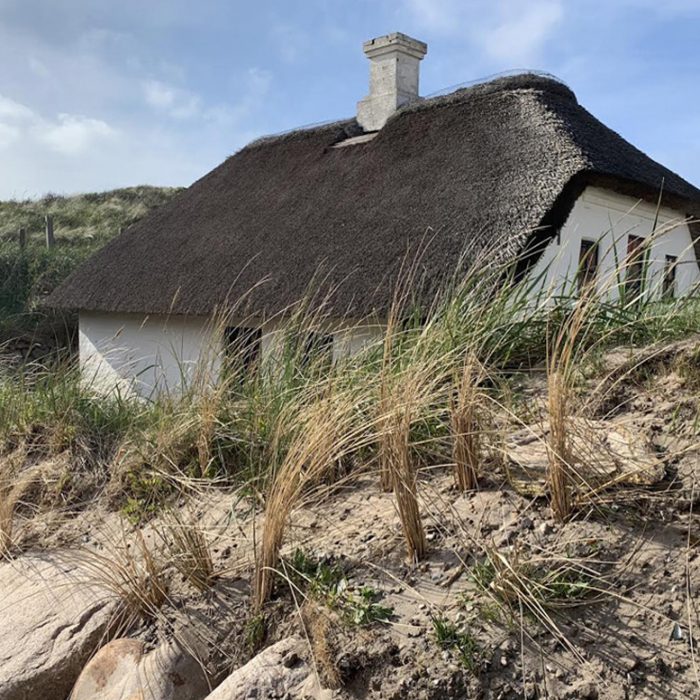 Vejhuset
Vejhuset is one of Løkken's oldest thatched houses and is located adorable on the edge of the dune, but also in the middle of the town. There have originally been sheep farms. The location is quite unique and just as photographed as the other landmarks in Løkken. The interior is spartan and kept in the original style for the kitchen and furniture. Today it functions as one of Løkken's holiday homes.
In the early 1900s, you could see from the Løkken museum and directly out to sea. In recent years, the owner has invested in stone dykes, as the sand blows lively on the location. The road house has always been a favorite motif for painters.
Watch the video about Vejhuset here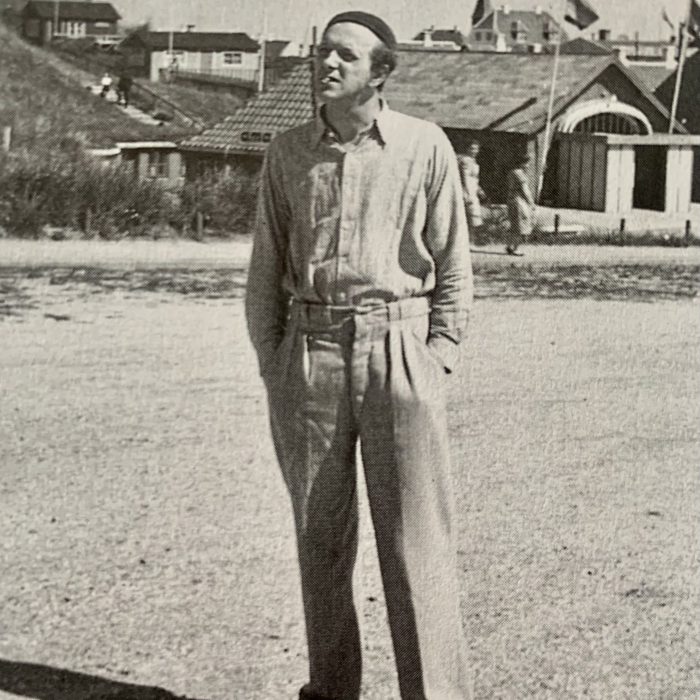 Chr. Valentinusen
Chr. Valentinusen was born in Løkken in 1903 and died in 1984. He was the son of a fisherman and grew up on Nordre Strandvej, but did not live in Løkken for the last 40 years of his life. Valentinusen and the family vacationed in Løkken for all the years.
Valentinusen was inspired by Løkken all his life. His choice of motifs were most often fishing boats, fishing life, portraits and Løkken's landmarks. Many paintings also depicted the picturesque street environment; always with people in focus in the motif. However, painting hands was not Valentinusen's strong point, although one of his strongest strengths was portrait painting.
Valentinusen most often used oil in simple strokes with a brush and worked mostly with earth colors and shades of blue and gray like the sea. If there is an item of clothing in the painting, it was often bright red or blue. Valentinusen was extremely prolific, but has also repeated many of his favorite motifs in his paintings. This applies to Furreby Kirkevej, Furreby Bæk and the families around fishing.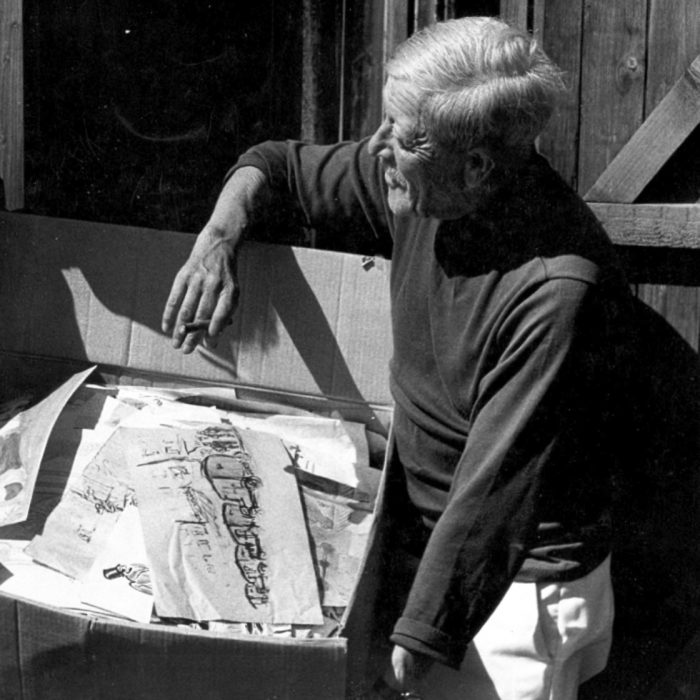 Erik Larsen
Erik Larsen was born in Frederikshavn on 3 August 1902 and died in 1975 after having lived and then holidayed in Løkken for most of his colorful life. Even as a child he was a natural talent in music and drawing. He is also described as having a talent for living and enjoying life's temptations together with his wife Therese.
Erik Larsen's motifs were often figurative, adventurous and inspired by books and stories and his travel life.
Erik Larsen worked with all types of materials. All colors are often represented – regardless of whether it is a drawing in chalk, water colors or oil. Quite often there was a small thought in writing or a small poem in a frivolous tone. The motif was often ladies dancing and smoking, wearing transparent dresses with pearl necklaces. Others imagined summer life with mothers and children on the beach.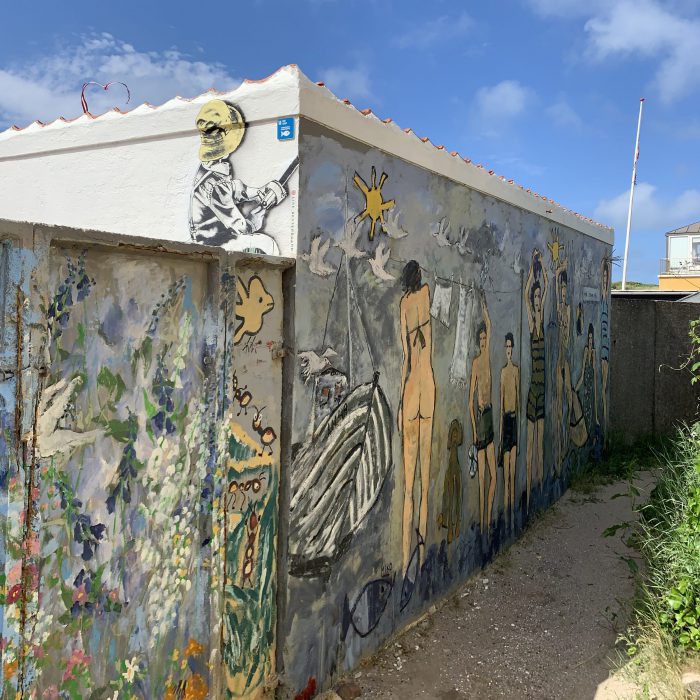 Art in the area around Vejhuset
The gable painting "Natures Way" was done in 2020 by Lise Vestergaard in collaboration with Kulturhus Løkken. The beautiful Nørretorv is filled with granite fish and a fountain designed by Klaus Unger. Notice the signs for the Valentinusens Sti. Here, there is also a shark made of recycled materials. On Valentinusens Sti there is a shoal of fish made by Jørgen Ussing. A little further down the path is Lise Vestergaard's interpretation of the UN's world goal no. 5 with the title "A glance of equality".
Around the corner to Erik Larsen's path, the first thing you see is an interpretation of Lise Vestergaard – World Goal No. 1 with the title "Stay rich, give with your heart".
Further on – that is, after you have seen Jane Mikolajewicz's brickwork "Summer life" – you must keep an eye on World Goal No. 14, entitled "Teach a man to fish, you'll feed him for a lifetime".
Before you leave Erik Larsen's Path, you pass a large mural inspired by Erik Larsen's universe. This work was created in collaboration with almost all artists in the project.
Lone Ejstrup Jensen has made ceramics for a flagpole plinth and also decorated it with a beautiful green fish out in the dune.
The recreational children's house is a painted vintage woodshed, where the children can borrow a coloring book or read a book about the climate. The loop sign on top of the playhouse was made by Børge Drivsholm.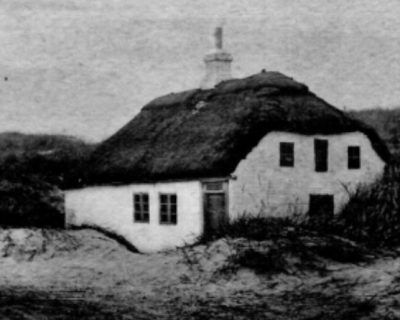 Vejhuset photographed around 1918-1920. The road house has always been a favorite motif for painters.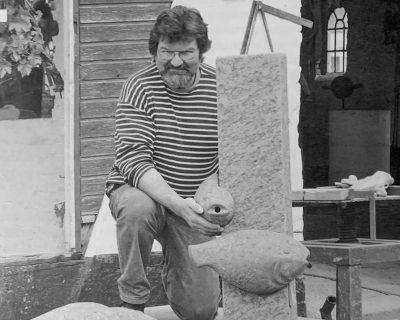 Klaus Unger (1945-2017), lived in Nr. Lyngby from 1997. He created numerous sculptures in granite, sandstone or marble, which stand all around Vendsyssel. Løkken has many carved fish and maritime tools placed in the pavement around the city. A project launched in 2003 by Jørgen Ussing and the residents of Nørregade/Nørretorv.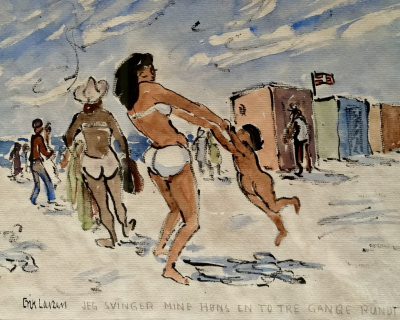 Drawing by Erik Larsen. A classic example of the fun little texts and motifs from Løkken.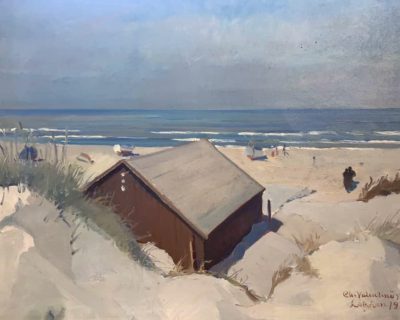 An early painting by Valentinusen and a rare motif. It is the rescue house located on Rolighedsvej (by Tjærepladsen).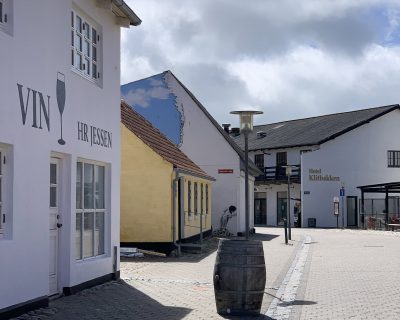 The route on the Løkken Art Trail starts at the mural "Natures Way". The mural was created in 2020 by Lise Vestergaard in collaboration with Kulturhus Løkken.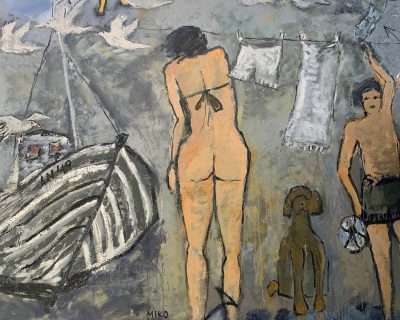 There are no less than 6 different murals on the 2 paths in the area by Vejhuset. Here you can see a section of Jane Mikolajewicz' wall from 2021. The motif "Summer life" was inspired by Erik Larsen.