Furreby Bæk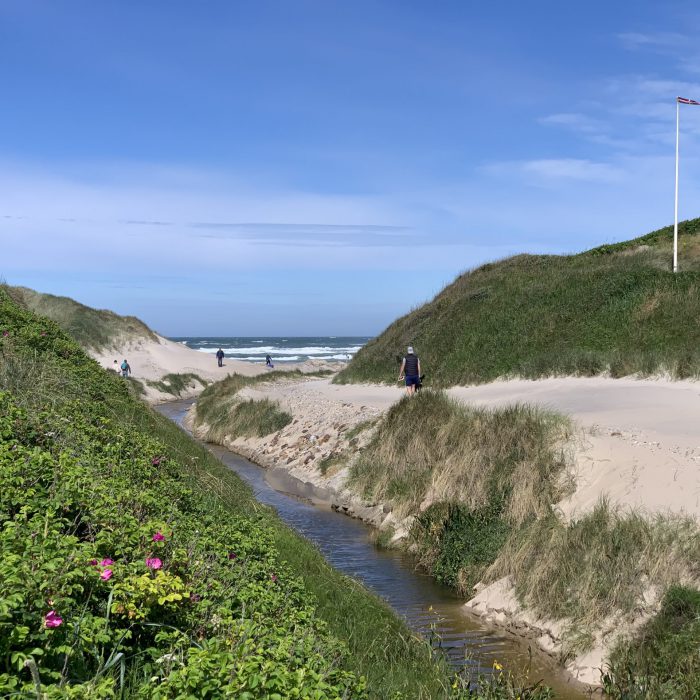 Furreby Bæk
Furreby Bæk covers the area from Pension Udsigten, the viewing area and the Nurses' Holiday Home. The route here goes by the original holiday homes. One of those that functioned as a boarding house and where the artists often hung out was Pension Udsigten. There are many beautiful thatched villas here by Furreby Bæk.
Erik Larsen in particular worked here, as he and his wife had their own studio next door. Entire series of paintings that he made for Pension Udsigten and the host couple Laubjerg have hung there. Similarly, the Nurses' Holiday Home is a splendid resort, which was built in 1924. The land was given to DSR in 1918 by merchant P. Brix from Aalborg.
Furreby Bæk itself has its source up behind Børglum Kloster and here in the past people have fetched fresh water and fished for eels. It was also very popular to sit by the bank or play in the stream. Furreby Bæk has always been a popular motif to reproduce in paintings. Valentine in particular has been happy with the motif.
Watch the video about Furreby Bæk here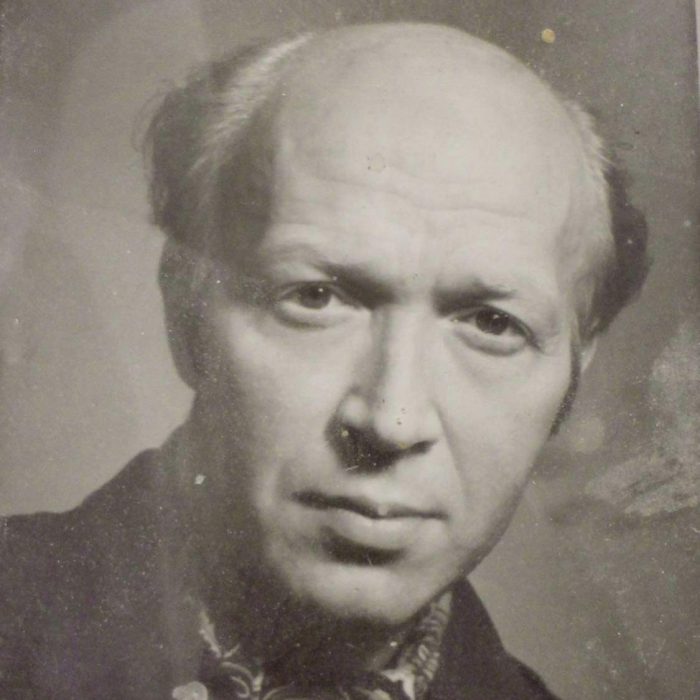 Aage Sørensen
Aage Sørensen was born in Himmerland on 9 July 1912. He died in Aalborg in 1991. Aage Sørensen lived in Klarup after having lived and holidayed in the yellow summer house on Aavej in Løkken for many years. Aage Sørensen was already a talent as a child and consciously sought training, but according to his father's wishes he first learned the trade of a building painter. This has led him to work with many materials.
Aage Sørensen was inspired in his works and colors by his work as a theater painter in Aalborg. Used mostly chalk and oil and print. He made a lot of sculptures and reliefs and worked a lot with mosaics and with the light of the North Sea as inspiration. Aage Sørensen's motifs were often people, their masks or still images in impressions from travels or cityscapes from Løkken.
In Løkken, Aage Sørensen has the credit for a huge glass mosaic of Sømærket, which in itself represents a huge architectural calculation of proportions. He has also built the sea mark in Italian glass stone in mosaic for installation in the hall at Hotel Klitbakken. Aage Sørensen has also been responsible for the renovation of the beautiful Løntorp frescoes, which he has taken down and renovated from a villa between Lønstrup and Løkken. Today, they adorn an entire wall in the auditorium at Løkken school.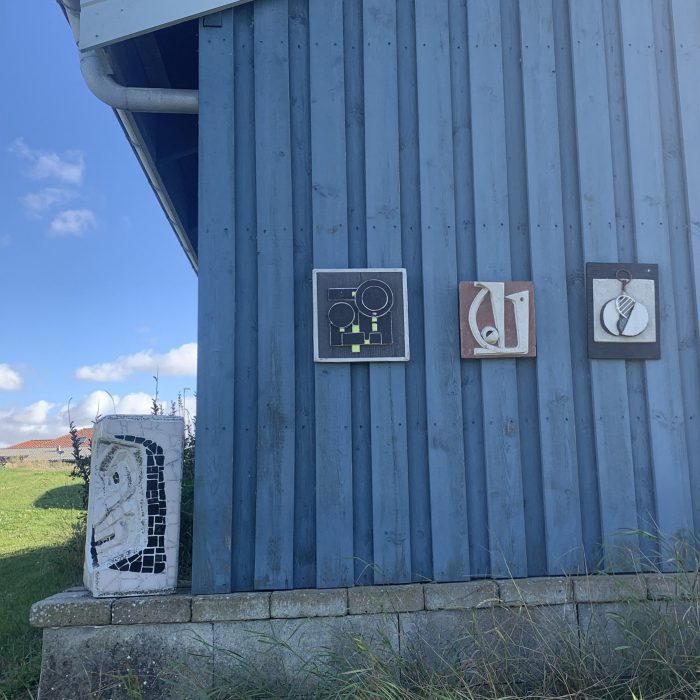 Art in the area around Furreby Bæk
At Furreby Bæk there are 3 reliefs and a sculpture in glass mosaic, made by artist Aage Sørensen. The works are donated by the son Jens Sørensen, who is also a painter with a gallery in Børglum.
Lone Ejstrup Jensen has made a plaice that can be seen at the holiday home. At Furreby Bæk, you can take a well-deserved break on benches made of forged craftsmanship, sponsored by Lions Løkken. In the area there are also signs, ceramics as well as birds and fish in glass.
If you are lucky enough to be on holiday at the Nurses' Holiday Home, you will also find works by Chr. Valentinusen and Lars Nielsen.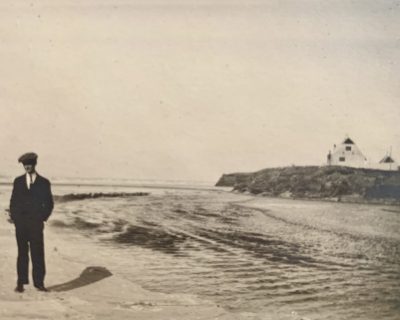 Furreby Bæk outlet, which changes year by year and seems narrower nowadays.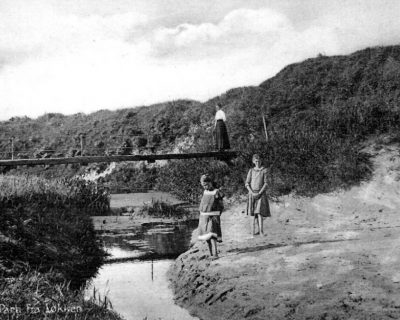 Furreby Bæk from the turn of the century. The vegetation and the bridges above change over the years. But at all times a large and well-visited tourist area.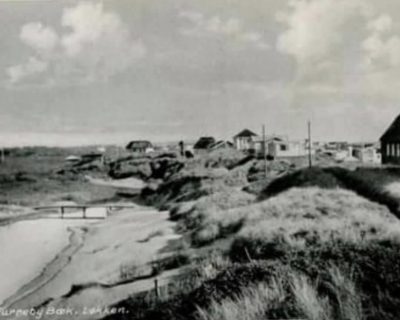 Furreby Bæk with the nurses' holiday home. The picture is approx. from the mid-1920's.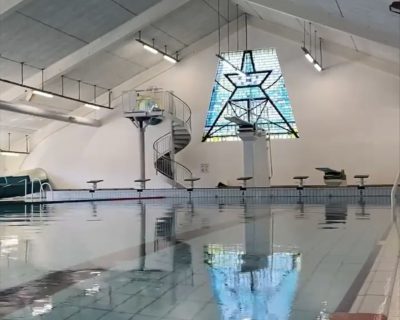 Sculptures made by Aage Sørensen, donated to the project, stand on Kærlighedsstien at Furreby Bæk. Here is one of the oldest and largest works, which is in the swimming hall in Løkken Idrætscenter.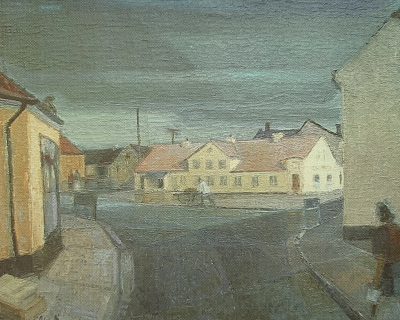 Oil painting by Aage Sørensen, showing Løkken Torv. The painting was bought by Jyske Bank, and is one of the few works by Løkken city.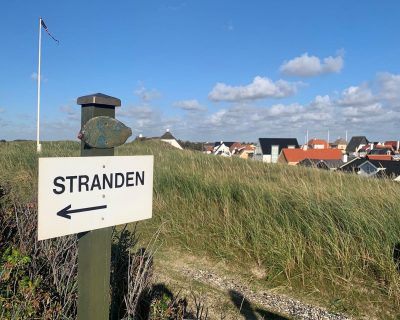 The art in the area around Furreby Bæk is numerous. There is both glass, ceramics, signs, benches, rest areas and sculptures. The area covers from the church, past Udsigten, up to the View point and down to Kærlighedsstien and up to Furrebyvej.