For the children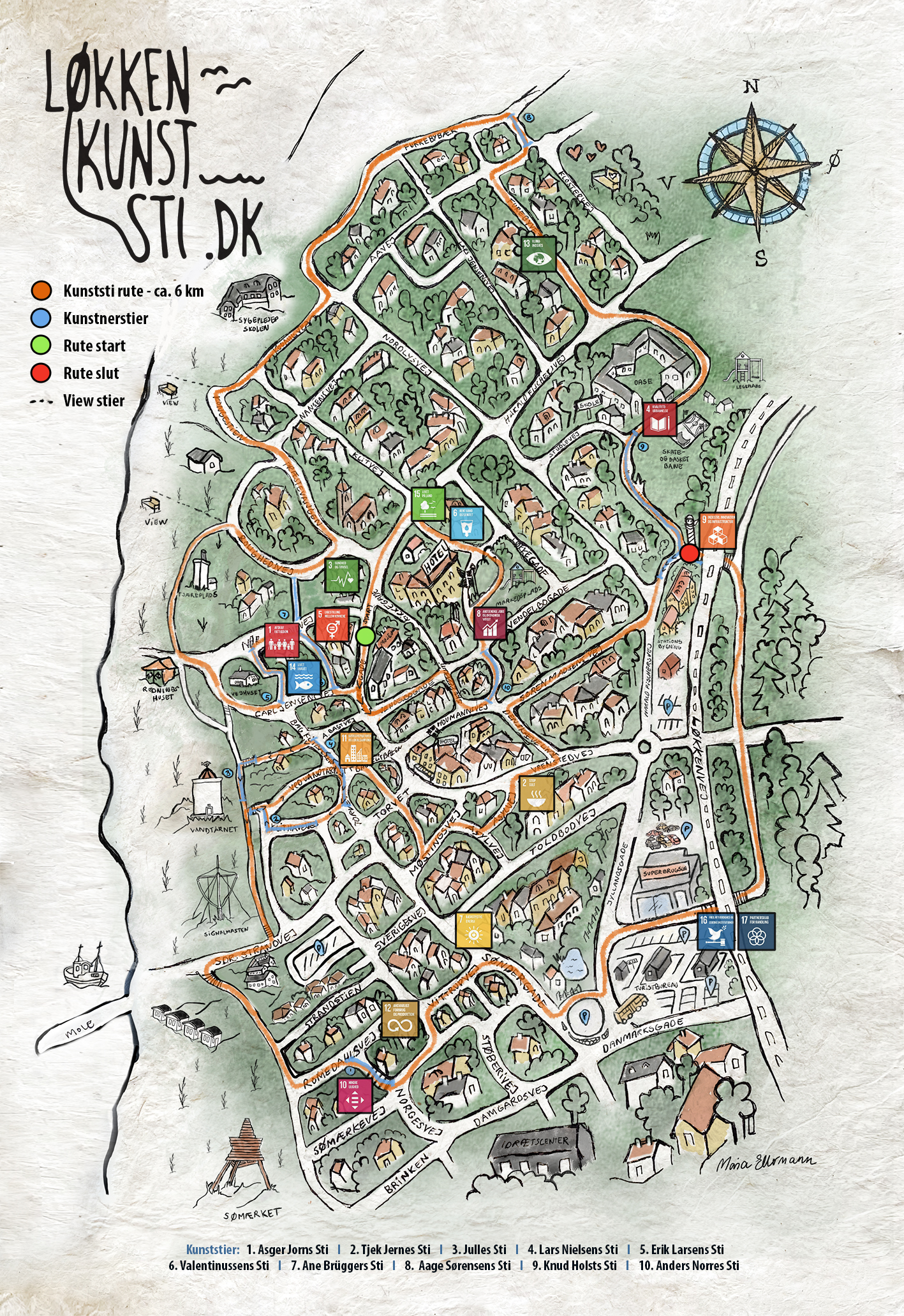 A day full of exciting activities
There's plenty of fun on the Løkken Art trail. Make sure you bring along the children too!
Danish artist Maria Ellermann has created a beautiful hand-drawn treasure map of Løkken Art Trail. With this in your hand it's easy for children to find the secret paths and 17 World Goals.
You'll find plenty of children's activities along the route to ensure they have a fun and active day outside. Experience the thrill as you find your way along the small secret paths, while they play hide and seek with all the little fish dotted in the landscape. Løkken also offers many playgrounds in the area, giving plenty of opportunities to take a well-deserved break.
The Art Trail is open all year round and Løkken welcomes children of all ages, so you are free to visit as many days as you like. There are many exciting experiences waiting.
Come and have a fun day by the sea!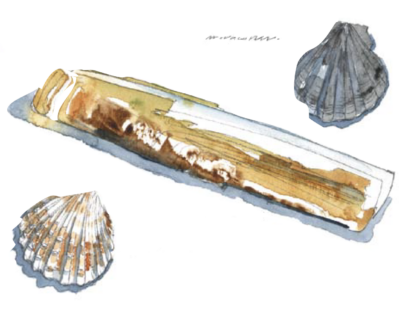 The nature at Løkken beach
You can get an insight into some of the fascinating life in the sea, by looking at the diverse remains of sea creatures and plants that occasionally wash up on the fine beach sand.
You could see shells of crabs, clams, mussels or snails, and to tell the difference between those – mussels are molluscs with two calcareous shells, while snails only have one. Many of the species are eaten in other countries and to an increasing extent also here, including the cockle. In Denmark they are one of the most common mussels – living buried a few centimeters below the sandy sea bed, most often in shallow water.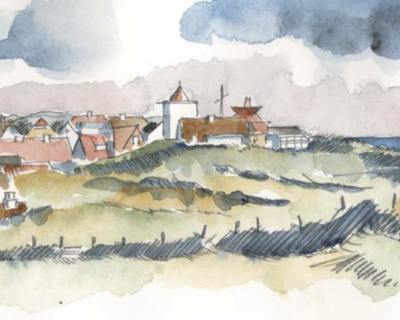 The dune landscape in Løkken
Løkken's dunes not only make beautiful landscapes, they contain Denmark's most dynamic, naturally formed and often untouched nature – with a distinctive plant, mushroom and animal life. Also on a European scale, Danish dune areas are unique – especially because they are protected so strictly. Mostly covered in large Lyme grass clusters, the dunes at Løkken have a special special look. The plant is stimulated to form shoots when it is covered with sand – and a single plant can grow through an entire dune with the roots reaching right down to the bottom!
You won't regret making some time to walk around the dunes, with their incredible nature at your feet and spectacular sea views.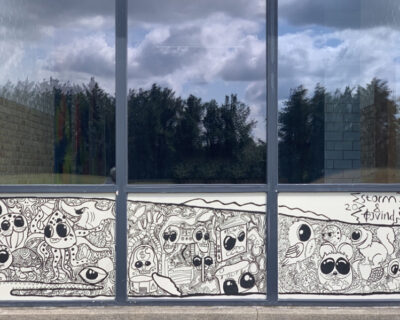 Storm and the sperm whale
Whales are mammals and can be divided into two groups: The toothed whale and the baleen whale. Most whales (around 70 species) belong to the toothed whale category which include among others: sperm whales, narwhals and porpoises. Some have as little as two teeth, while others as many as 252! Most feed on fish and squid, or crustaceans and other similar creatures.
Toothed whales have only one breathing hole. When whales dive their lungs compress as they hold their breath, and this is when you'll see the spurt of water – which is actually caused by the air being forced out of the hole before it closes. When the whale returns to the surface the lungs gradually expand again and the breathing hole opens to take in new air. Whales can absorb much more of the oxygen within the air than humans and they store it in their muscles. This is why they can do without fresh air for a very long time.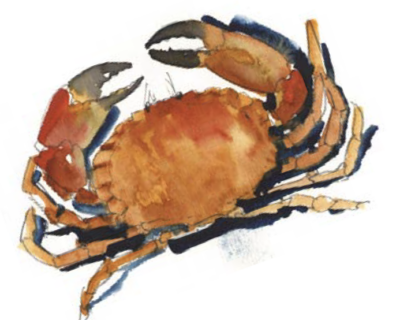 Beach crabs
What appears to be beach crabs sometimes washed up on the sand, are usually not dead crabs. They're actually the discarded shell that mature crabs change about once a year, and the younger ones change more often. The shed shell retains the shape of the crab which can make it look like it was once living itself.
The female can carry around 200,000 eggs under her broad, rounded tail which is curled up under her body. Under the males narrower tail there are only mating organs. Cod and eels are some of the sea creatures that like to eat beach crabs and as they are known to be found in the bottom of fishing nets, they are increasingly eaten by humans as well. In Løkken crab claw parties are held and enjoyed on warm evenings.
Løkken - the perfect place for children
The small playhouse "Børnehuset" is located between Valentinusens Sti and Erik Larsens Sti. If you take a break here there's an opportunity to paint in a colouring book or read one of the books provided… but please remember to leave the books where you found them.
If you've seen our videos you'll know that Løkken is full of lovely playgrounds, places to explore and relax… with the most special of course being our sensationally wide, fine sanded beach. Following The Art Trail and making the most of all Løkken has to offer will easily fill an entire day with fun for the whole family and can be visited freely as often as you wish.
Remember to visit:
• The playground, bonfire and petanque court on the Market Square.
• Løkken Miniby in Vendsyssel plantation
• Ball courts, skating rinks and play stands at the school
• Multilane and pannalane at the stadium
• Padel court and swimming pool at Idrætscenter Løkken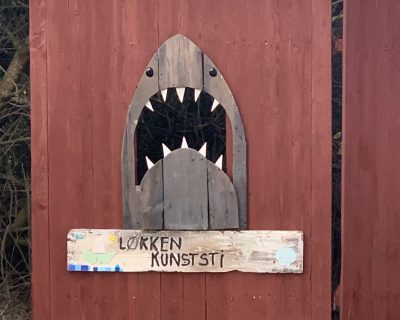 Find the secret paths
The treasure map takes you through winding secret paths, to places you would never have stepped foot before… and we'll give you a special task to take a selfie with the well hidden shark. He's waiting for you to say hello in a spot you might have thought you were not allowed to go, but when you find him, we'd love you to share that selfie on Instagram #løkkenkunststi