Artists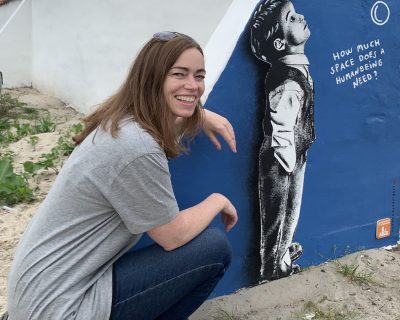 Lise Vestergaard
Lise is a street artist who works fiercely for climate causes and uses art as a sustainable medium. Lise created the works "Blown Away" in Løkken in 2019 and "Natures Way" in 2020 – both in collaboration with Kulturhus Løkken. Especially for Løkken Art Trail Lise has created 17 new works in 2022, each dedicated to a world goal.
Lise Vestergaard works internationally and likes to support green NGO initiatives. Fascinated by strong colours and effects such as light and shadow – it is these that have inspired her process when working on these artworks.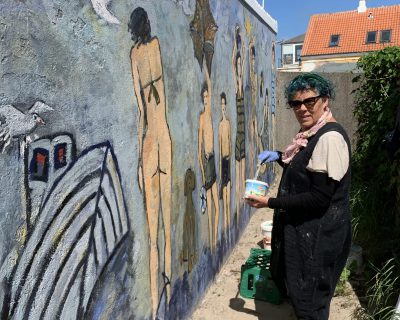 Jane Mikolajewicz
A multi material artist and fond of shapes, Jane likes to be open whether working in paint or ceramics.
For Jane with the signature MIKO, her thoughts were to pay tribute to the culture in Løkken – and her words of inspiration for the big wall on Erik Larsen's path were heat, sun, wind, seagulls, fish bathers, ball games and children. Also as a sign of the times, corona virus has had a little mention on the wall too. Signs and decorative stones in Jane's characteristic style can also be found along the trail.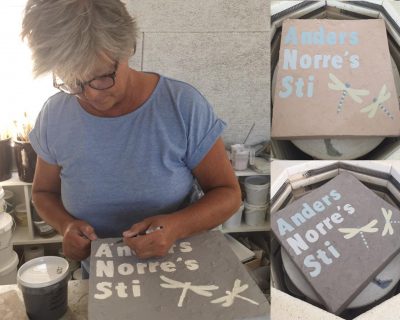 Nina Friis
Nina is a multi-talented gallery owner based in Løkken. She is fond of using pastels and is inspired by the light and marine environment of the area, with it's landmarks appearing in her ceramics, oil paintings and other works. Nina has designed a tile displayed on Anders Norre's path, as well as small flatfish – featuring her expertise in glaze.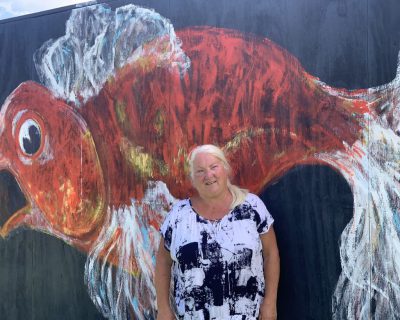 Britta Kornum
Exuberant and detailed in her art, Britta is creative, imaginative and hardworking. Happy using all colours both in soft and tone on tone, whether it's in a sea of flowers, figures or animal faces.
She loves to be creative and free to paint on all sorts of platforms and materials. You will find a lot of larger works by Britta on the school grounds; and her ability to paint seas of flowers is shown on the large adventure wall on Erik Larsen's path. She is also the woman behind lots of decorated stones in the same style.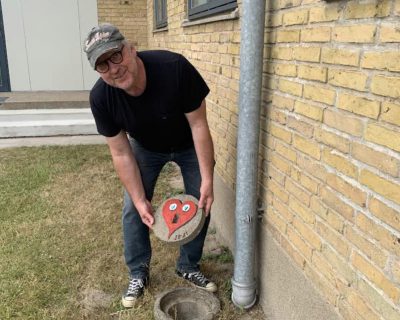 Jørgen Ussing
Jørgen is a drawing and watercolour master as well as an architect on the side. His long held creative life has resulted in a clear eye for details in naturalistic colours. This, mixed with a love for local history and good food, has resulted in countless artistic initiatives and products for the town.
In the project, Jørgen has been the producer of a painted school of fish on the wall behind Nørretorv, and so he can now also officially add the title of 'street artist' to his repertoire.
.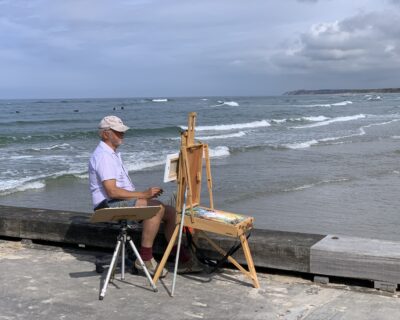 John Kristensen
A painter and gallery owner based in Løkken, John appreciates the little details in his re-production of nature, and the Løkken scenery that unfolds right before his eyes. John is the artist behind a couple of older murals in the area (window and sea), and paints with oil; preferably in real time, painting on location right where nature plays out its wonders. He won't finish a piece until it looks just as he can see it with his own eyes. For this project John has painted two more murals along the secret paths.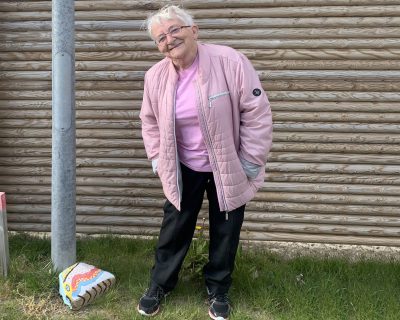 Zita Svendsen
Zita is an enterprising lady – full of humour and with an excitement for life. She also loves colours and is passionate about figurative design with simplicity, using expressive and surreal tones. Zita added her creative touch to the manhole cover at Tjærepladsen, as well as wall art inspired by Erik Larsen's style (on Erik Larsen's path), and much more in a variety of materials such as fibercement and ceramics. She is also behind countless other decorated stones, signs and cement creations. Inspired by nature, the sky, sea and coast, Zita almost dreams of colours and shapes.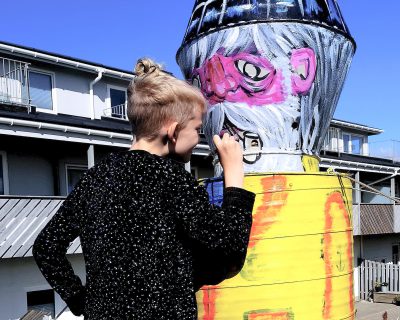 Storm og Øjvind
Twelve year old Storm and his father Øjvind with their urban style and consistent expressions in marker and acrylic, have put fantastic shapes on a window section at the school – incorporating motifs from the sea and life in the forest, as well as drawing a fable about pollution. In addition they have transformed a boring, rusty old chimney into a beautiful fisherman, who stands by the Strand Pavilion and looks out over the sea. All subjects can potentially form part of their collective creativity.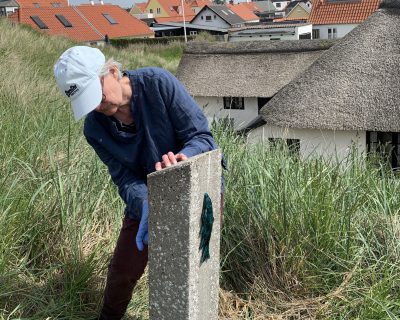 Lone Ejstrup Jensen
With a block of clay in her hands together with her creative skills, Lone has certainly left her mark on the art path. Her finely detailed ceramic fish and paintings on flagpole plinths, along with her fish and sea creatures on stones, are featured along the entire route. She prefers soft colours and colour interaction, and although she makes all kinds of artistic creations, she mostly works with ceramics, drawing and paintings..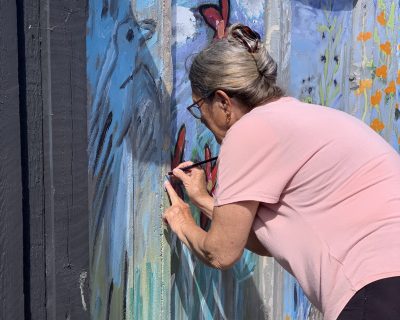 Vibeke Haagensen
Vibeke loves to make ladybirds and small fine fish. In terms of style, she likes to work with soft colours and simple shapes; and to make simple, happy things in fibercement, and decorating stones and signs. The wall in Erik Larsen's path is filled with ladybirds in Vibeke's style, just as she has sponsored many of the boards and fish.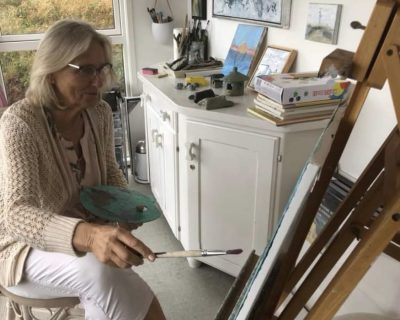 Hanne Rubæk
Taking her inspiration primarily from nature, Hanne loves to both draw and paint. She's happiest painting fish, beach huts, the Danish flag and traditional fishing boats. For the project she's decorated stones, colourful fish and ceramic signs, which can all be found around Løkken.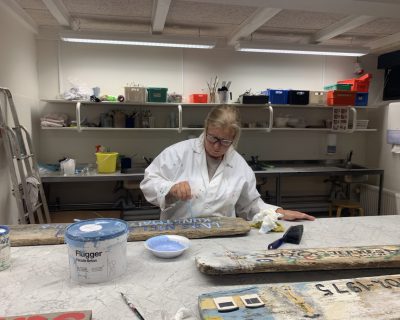 Sanne Nørskov
Sanne is a multi-talented potter with a wealth of expert knowledge, advice and techniques. Her works on the route consist of glazed ceramic fish among other things, and she has also made signs for the project. Sanne mostly works with ceramics, but is also fond of colours, shapes, the details in acrylic on canvas, and working with all sorts of other materials.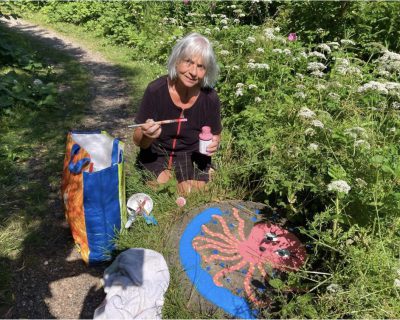 Lone Skovbo Frederiksen
A creative, nature loving and sea-happy lady all year round, Lone makes the wildest shapes and figurative creations in happy colours. You will find her imaginative style in several places on the route, on among other things ceramic fish, manhole covers and decorative stones.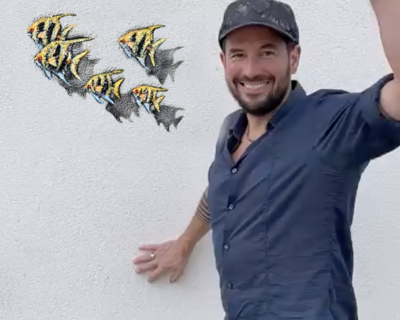 Carl Smith
American artist primarily in mixed media. Lives in Berlin. Represented at several galleries worldwide. Smith finds inspiration in the experiences of the big city. Through the language of Urban Art, Smith seeks to tell visual stories and anecdotes with humor. Preferred materials are acrylic and spray and mixed media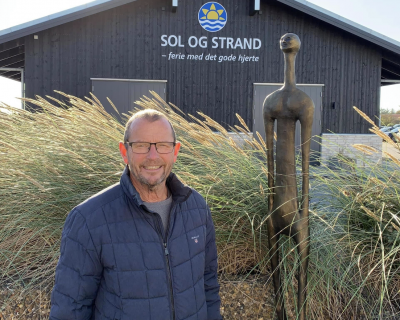 Jakob Krogh
As the creator of the sculpture 'On The Way', Jakob is a talented sculptor and creates a lot in fibercement. His numerous sculptures are made with reinforced iron in addition to the fibercement, and in his own art style, he primarily forms shapes of elongated people.
Siw Heier
An Oslo-based ceramicist, Siw depicts the finest detailed bubble fish in her cheerful designs. She makes ceramics for her shop Embla, in Oslo, such as bathing women, and animal modelled cups and jugs. Siw herself has been a summer tourist in Løkken and is therefore happy to support the environment and seaside resort with her design. Look out for example, for her puffer fish on the trail.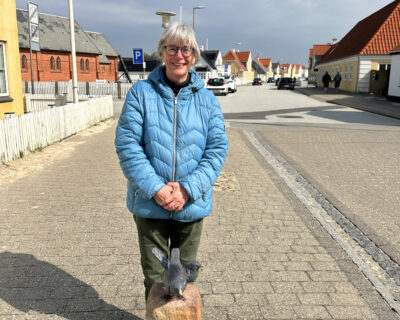 Bodil Dam
Sculptor, Bodil Dam is the owner of Galleri PondCottage Art near Vrensted. Works in Løkken: Solhvervssøllen by the water tower, Angry Seagull at Lilletorv and the two black suns on a plinth in connection with the Løkken Art Trail. The sun blacks are made of stoneware clay and are two males who have found a place to sit and keep an eye on the life of the city.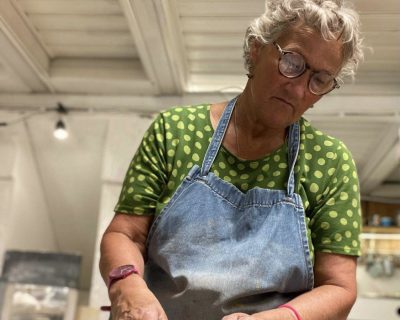 Trine Reinfjell
Trine is an imaginative and knowledgable artist from Oslo, with a fondness for fun and happy shapes in stoneware. A lover of the environment by the water, Trine has the climate on her agenda and therefore signed up to support the initiative. On a daily basis she is in her shop Embla, where she draws and makes cheerful statements on her designs. You'll be sure to spot her humorous ceramics, especially around the water tower and signal mast.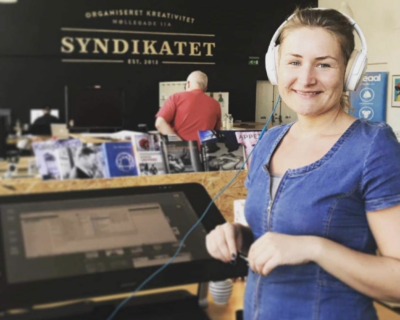 Maria Ellermann
Creative designer, photographer and graphic artist, Maria primarily paints acrylic on canvas, but also makes decorations. Her particular expertise lays in colours, shapes and line creations for children, and she also has a few murals under her belt.
Maria has drawn our very own artistic route and treasure map. She loves colours, patterns and exciting expressions, and gives meaning in her art.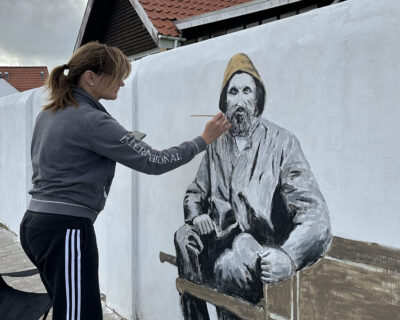 Astrid Helene Lundgren
Astrid Helene Lundgren has painted and drawn her whole life. She was born and raised in Tornby and has recently returned home from Germany, after having lived and worked there for the past many years. She has attended the Art School in Leipzig. Astrid is an experienced artist in many materials, but particularly enjoys drawing with markers and painting with watercolors. Loves to portray animals and people.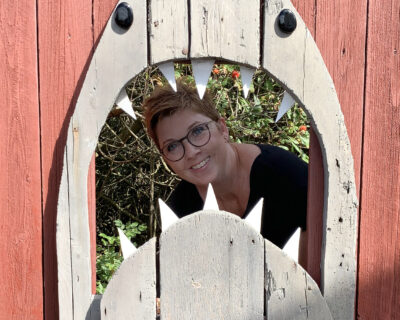 Jonna Liv Jensen
Jonna is the mastermind behind the whole project. She is a voluntary creative creator, project manager, script writer and finance and IT manager. She now knows everything about materials, gluing and not least how impossible the whole task is. Since childhood, Jonna has been creative in many ways, mostly painting with acrylic or oil paint. In the project typically created whole fish/figures in stone, fiber cement or ceramics, brickwork and sign making. In terms of color, mostly for tone in tone and afraid of the color red.